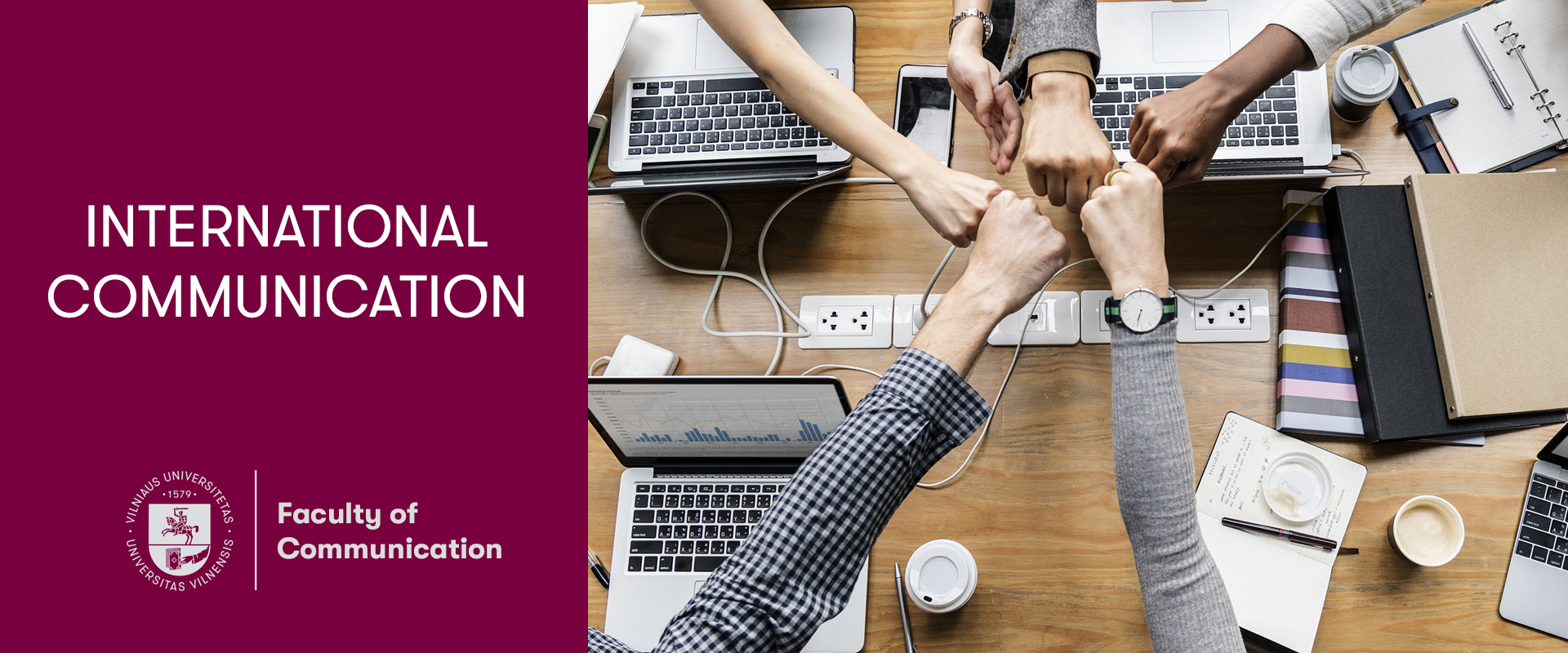 | | | | |
| --- | --- | --- | --- |
| Branch of science | Social Sciences | Scope of studies | 90 ECTS credits |
| Field of study | Communication | Cost of a credit | 71,58 euros |
| The degree of qualification | Master in Social Sciences | Length of studies | 1,5 year |
| Study form* | Full time | Overall cost | 6 442,2 euros |
* The study programme is conducted in Lithuanian and separately in English.
Combining a high level of theoretical analysis with real-world application, the International Communication studies increases your knowledge of intercultural, organizational and political aspects of international communication. Deepen your insight into communication within the globalised world through advanced study and research on topics such as corporate communication, theory of international relations, crisis communication and sustainable development.
The programme is developed and implemented in close cooperation with the G. Hofstede consortium partners from Leeds Becket University (UK) and IULM (Italy). In collaboration with the Faculty of Communication's foreign business and academic partners, the curriculum has been adapted to provide corporate communication competencies, which encourages our students to compete at the international level.
The programme is focused on the provision of additional qualifications, which enable seeing and evaluating communication and information processes from the international prospective, rather than on educating of a specialist for a certain narrow area of activities.
The study programme is an exclusive one in the Baltic region. It provides students with the competencies needed to become corporate communication professionals and those willing to initiate a career with international corporations working as CSR or PR specialists or consultants. The goal of the programme is to provide students with a broad and profound knowledge of international and cross-cultural corporate communication, and to form the practical skills necessary for professional activities. The programme is focused on providing additional qualifications, which enable the students to see and evaluate various communication processes from a global perspective, rather than on educating a specialists in a certain narrow area of activities.
Welcome to the Faculty of Communication!
Acquired skills
Master's degree graduate in International Communication:
Will be familiar with the latest theories of international and intercultural communication, to be able to critically evaluate the latest research in these fields and to apply the acquired theoretical knowledge;
Will be able to analyze contemporary mass communication processes in an international context;
Will be able to apply theories and methods of contemporary public communication in a variety of organisational contexts, including multicultural environments and international markets;
Will be able to carry out research independently in international and intercultural communication, applying scientific methods creatively, knowing the limits of the methods, evaluating the results of the research and determining their reliability;
Will be able to generate creative ideas independently, using a variety of methods for acquiring, gathering, disseminating and preserving information and knowledge to create a critical competitive advantage for their organisations.
More information can be requested at:
Administrator for Studies

Simona Žalytė-Linkuvienė
Tel. +370 5 236 61 08
Email:
Vilnius, Saulėtekio ave. 9, building I, room 202