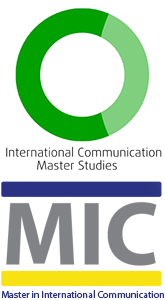 The International Communication studies at Vilnius University offers a suitable approach at the intersections of media studies, cultural studies and communication.
In faculty of Communication we offer to ways of applying to this program: direct application via Vilnius University (study program "International Communication") or through Geert Hofstede Consortium.
More information can be requested at:
Administrator for Studies

Simona Žalytė-Linkuvienė
Tel. +370 5 236 61 08
Email:
Vilnius, Saulėtekis av. 9, Ist building, room 202.
Course desription Academic year 2019/2020
Course Type

1st Semester

2nd Semester

3rd Semester

Compulsory Courses


Communication theories (5 ECTS)

Social Responsibility (5 ECTS)
Final thesis
(30 ECTS)
Communication Research Methods (5 ECTS)
Scientific Research (5 ECTS)

Corporate communication (5 ECTS)

International Crisis Communication (5 ECTS)
Crosscultural Communication (5 ECTS)
Public Diplomacy and Persuasion (5 ECTS)
Communication Project (5 ECTS)
Global Business Environment (5 ECTS)
Elective Courses

Discrimination, Violence and Human Rights (5 ECTS)
Scientific Research Practice (5 ECTS)
Combining a high level of theoretical analysis with real-world application, the International Communication studies increases your knowledge of intercultural, organizational and political aspects of international communication. Deepen your insight into communication within the globalised world through advanced study and research on topics such as corporate communication, theory of international relations, crisis communication and sustainable development.
The programme is focused on the provision of additional qualifications, which enable seeing and evaluating communication and information processes from the international prospective, rather than on educating of a specialist for a certain narrow area of activities.

The Master in International Communication is a programme, developed in close cooperation between the consortium partners: Hanze University Groningen, (The Netherlands), IULM University (Italy), Leeds Metropolitan University (United Kingdom), Vilnius University (Lithuania). Ongoing harmonisation of the curriculum, the assessment criteria and procedures insure comparability of the programme.
The course will prepare communication professionals for their tasks and responsibilities in a multi-cultural and international environment. Diversity is a key element.
A core programme will be offered by all universities, and each will offer three specialisations to be followed by students abroad. Student mobility in the second semester is compulsory. The master's thesis will be written under the supervision of two universities, both awarding the graduate their degree.
The course will be based upon competence based learning. Students will work on 'real life' cases brought in by companies and (governmental and other) agencies. Also, the greater taught part of the course will be formed by specialisations. The course is offered in English to an international student body. Core competencies are English languages proficiency (as a second language) and intercultural competence.
The MIC programme is a full-time study over three semesters (90 credits). Semester one is undertaken at one of the six partner universities, and the second semester at a second partner university. During the third semester, students write a thesis under the supervision of the two respective universities.
More information about the project ant the program you can find under http://www.masterinternationalcommunication.eu.